Inktrapment – from the archives: Colorverse String and Brane
Inktrapment – from the archives: Colorverse String and Brane
This ink review was the first one I published on this blog (at the time called Fyllepenna) in May 2020. Here is a newly translated version:
I've long wanted to learn more about ink, and I recently also purchased different notepads to test my inks more thoroughly. More fun in every ink drop! When "Fyllepenna" requested ink reviews, I expressed my interest, and this is my first attempt!
I've looked at the only two Colorverse inks I have (because you have to start somewhere): String (25) and Brane (26).
They come as a set in two elegant bottles shaped like small "birds": a large one (65 ml) and a small one (15 ml). I bought them in Italy last year for about €30, so they're quite pricey.
It seems like the South Korean brand aims for refinement in their packaging as well.
In addition to the nice glass bottles and labels, they come in beautiful cardboard boxes with foam cutouts tailored to hold the bottles securely. Their ink names are also well thought out and complement each other, as many of them have themes from space or the world of physics.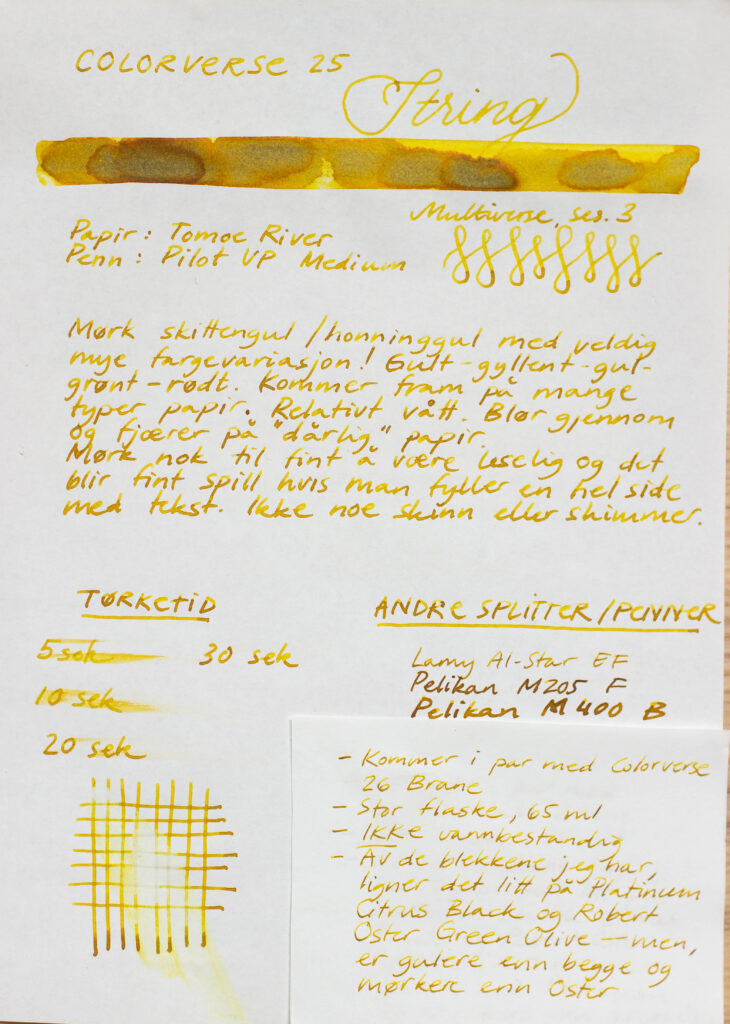 String (65 ml) is a dark honey yellow with incredible color variation: from yellow, to golden, green-yellow, and reddish-brown.
Shading is probably the ink characteristic I enjoy the most! It's almost hypnotizing to watch a page filled with writing in an ink with significant shading. (Although sometimes it can make the pages a bit challenging to read…)
Brane (15 ml) is a fairly dark moss-green ink with blue-green shimmer particles (what Colorverse calls "glistening"). There is also a good amount of shading here, although not as much as in String.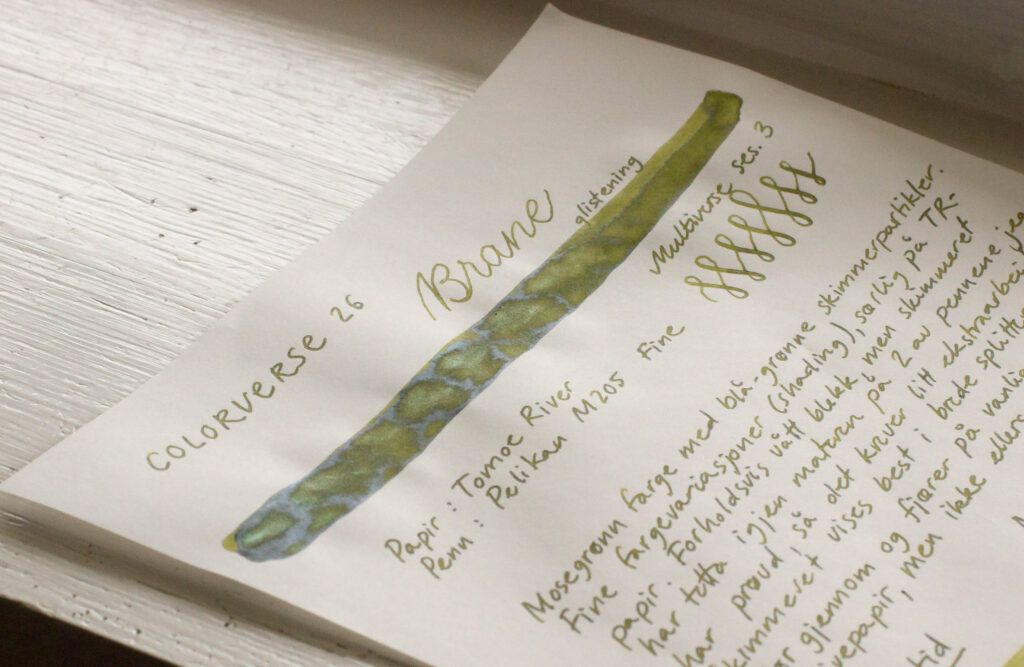 The shimmer particles weren't very pronounced, and it seemed like they clogged the feed a bit. However, the TWSBI Eco managed well enough. Despite it's super cute looks, the smaller bottle is a bit annoying – the bottleneck is quite narrow and not exactly designed for larger pens.
Both inks are quite wet and dry relatively slowly – between 30 and 40 seconds on Tomoe River paper. There was some feathering and bleedthrough on poorer quality paper. Neither of them is water-resistant.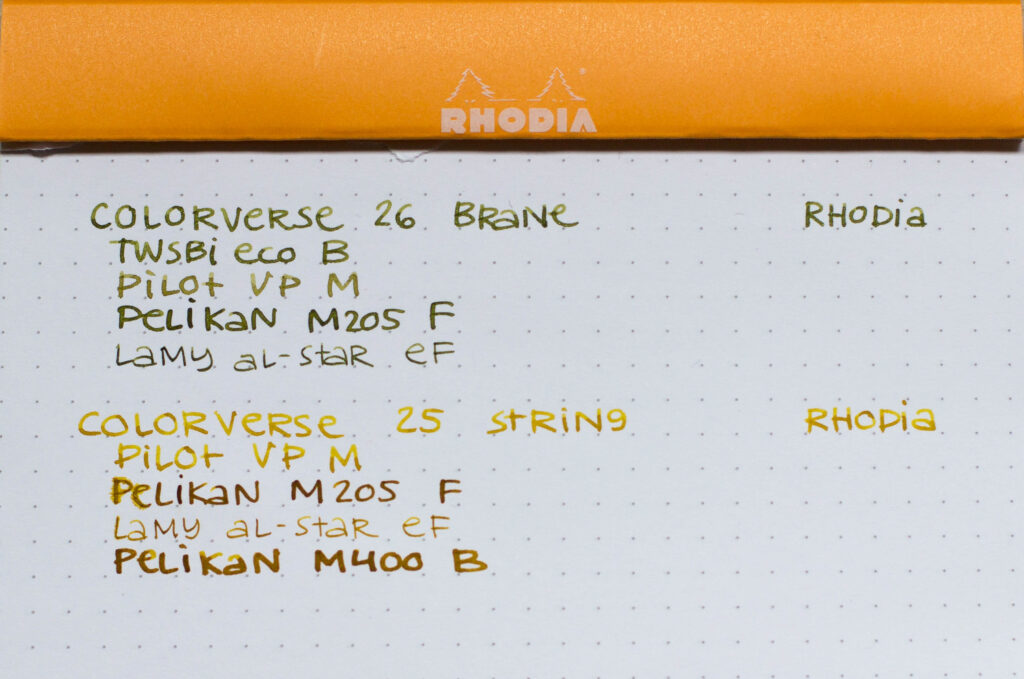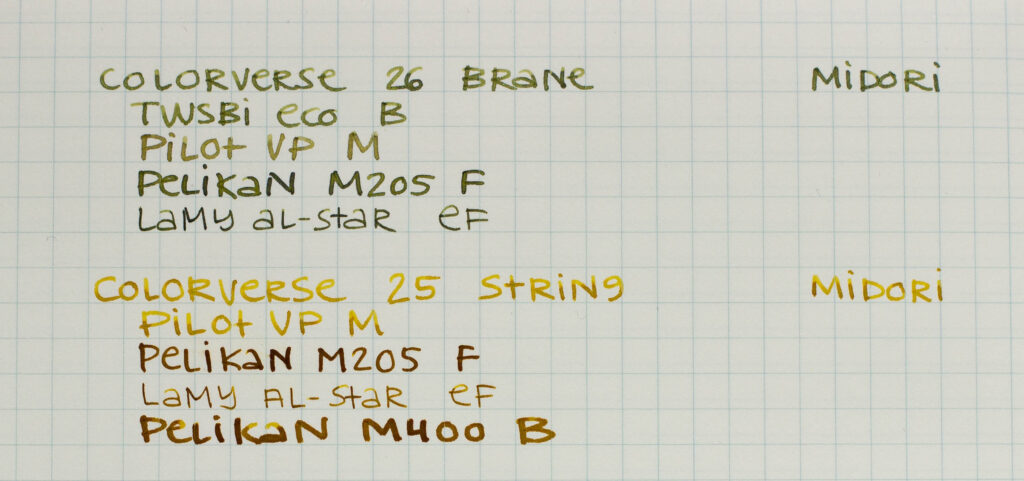 Although these two inks are the only ones I've tried from Colorverse, I must say that they have sparked my interest. I like the shading in both, and it's fun to see how different they look in various pens.
It would be nice to see Colorverse inks in Norwegian stores or (at the very least) more European stores, as I would gladly try more of them!
(Since purchasing these inks in 2019, Lille Notis has started selling Colorverse here in Norway, and I've had more opportunities to test Colorverse inks.)
Liv Mogstad Strickert is a regular contributor on Pennen er mektigere, publishing new ink reviews every other Thursday – and sometimes posts a review from the archives.