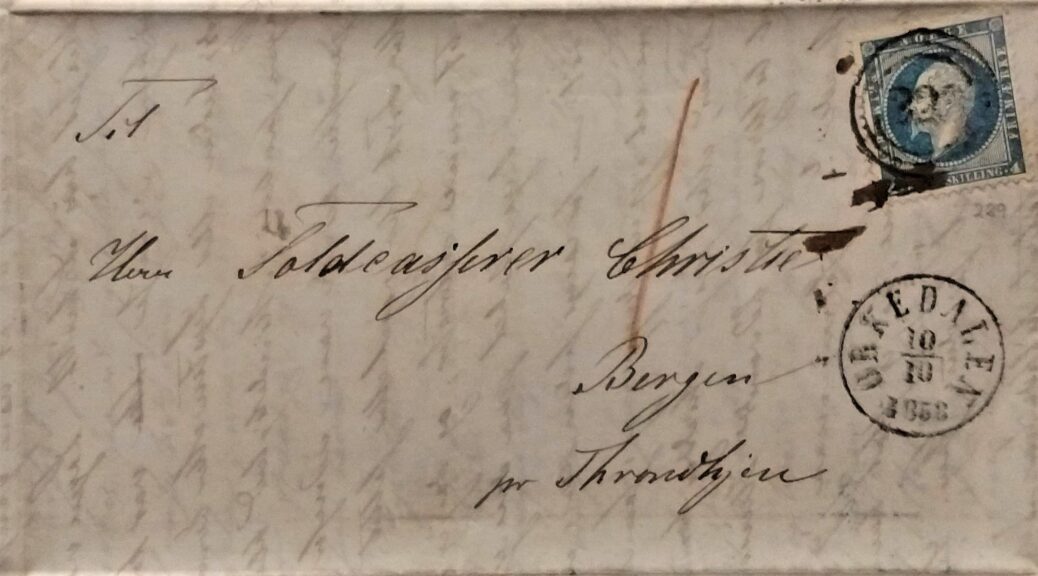 Point to Paper – 16-year-old in trouble in 1858 writes a letter to dad
Point to Paper – 16-year-old in trouble in 1858 writes a letter to dad
The 16-year-old Johan found himself in a predicament. On the 10th of October 1858 he wrote a letter to his father to discuss the matter. Many years later, the writer of the letter became the vicar of Vikør (now Vikøy) church in Hardanger. The letter was addressed to Toldcasserer Christie. Mr. Christie, who was a customs treasurer (Toldcasserer), was Johan's father. The father lived in Bergen. Johan was stranded in the wilderness of Orkedalen i Norway. Something had happened. Johan thought it could have consequences for his promotion. The mistake he had made meant that he had to stay in Orkedalen longer than planned.
On quiet afternoons, I like to snoop around on online auctions. Over the past year I have been looking for old letters. The idea has been to find fine examples of handwriting written with pen and ink. Old letters are a good source. In the autumn of 2021, I wrote several stories based on letters I had obtained. The contents of the letters provided paths to follow and mysteries explore. In one case, it was actually the envelope itself that was the entrance to the adventure. The stories I write have come about through all the weird things I've discovered along the way. The letter written by Baron Fredrik Wilhelm Wedel-Jarlsberg in 1840 sent me on a trip to Christiania, Copenhagen and Afghanistan. The envelope from 1862, which was sent by a Member of the Norwegian Parliament, Hans Jakob Aschjem, took me to an old patent office in Glasgow, the envelope folding industry in New York and The International Exhibition of 1862 in London. The letter written by Lise Kahrs from Christiania in 1858 became a strange journey in which mercury, syphilis and a hatters war at Hønefoss were some of the elements. The texts I have delved into have helped me become familiar with things I had no idea about in advance. The letter that inspired today's story is no exception. All the stories that are linked in this article will be published in English, but for now you will find that they are linked to the Norwegian version og the blog. You will need to use Google Translate if you don´t read Norwegian.
Firstly, I need to tell you how the letter ended up in my possession. My wife's name is Eva Daae Kversøy. Her grandmother was christened Aadel Christie Fritzner Daae. We have often wondered how the names Christie and Fritzner came into the family history. The family names we know something about are Munthe, Daae and Morgenstierne. With so many famous names, it has been possible to trace the family history far back in time. The earliest traces of the family are claimed to be the Knights of Monte. They are already mentioned in the 990s. The first certain ancestor is claimed to be Ascricus van Munthe. He is mentioned in a document already in the year 1072. 1000 years of family history is quite overwhelming. But what about the names Fritzner and Christie? Where did they come from? Here there was, at least for us, an unsolved mystery.
In the autumn of 2021 I discovered by chance that a complete letter addressed to Toldcasserer Christie in Bergen was up for auction. The letter was written in 1858. Could this customs treasurer be a relative? If so, it would have been fun to get to know the content. Unfortunately, old letters are also collectibles for stamp collectors. Nothing bad said about stamp collectors, but they are often more interested in the stamp than the content. For me it's the opposite. Each letter contains a story. Perhaps it is a story that no one has cared about since the letter was written.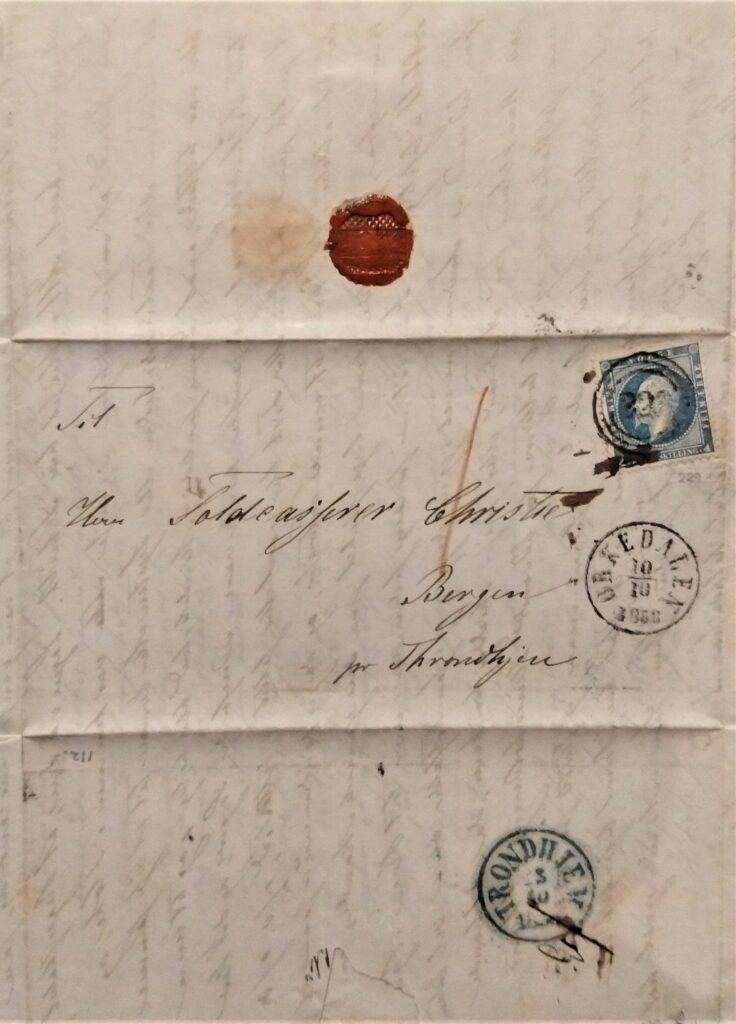 Did you find it difficult to travel during the pandemic? I have been on several long journeys. The expeditions I have been on during this period have almost always been cheaper than the cheapest plane ticket available. No trips I know of are more environmentally friendly. Who really needs strenuous trips to exotic destinations, when you can travel both in time and space with the help of a letter? I'm really just happy to avoid crowded airports. The aim of my travels is to experience something new and exciting. The most important thing for me is to get something new to think about.
Exciting adventures and undiscovered lands can be found in the corner of your garden, in a box in the attic or on an online auction. I live in a house with a young person who has an intellectual disability. She doesn't like traveling by plane. She likes to stay at home. Our family has become really good at local expeditions. We constantly discover something new from the bicycle seat or when we are on swimming excursions in our local area. The journey is often as great a pleasure as the destination. Our experiences are surprisingly often both original and exotic. I'm not sure if we're actually missing out on anything. Maybe it's the other way around. If there is some time to spare, I like to take mental journeys through old objects and handwritten texts. Part of the fun is sharing the experiences afterwards.
One such day there was a letter that caught my attention. There was something familiar about the name. I discovered a letter that was to be auctioned off and It ignited my curiosity. After some digging, I was able to determine that this was actually a letter to one of my wifes relatives. What I found out was that in 1770 Johan Fritzner married Aadel Edvardtsdatter Christie. In this way, a Fritzner and a Christie ended up in the same family. Johan was 26 and Aadel was 17. The customs treasurer turned out to be the cousin of the mother of the first wife of the grandfather of Eva's grandmother. Johan and Aadel were the uncle and aunt of the customs treasurer. The grandfather of Eva's grandmother was also a cousin of both his first and his second wife. It is almost like the text of a silly song. I completely understand if you have now lost track. The conclusion was anyway that there was a real, if somewhat complicated, family connection.
The customs treasurer could rightly be claimed to be a relative. Eva and I agreed that it would have been fun to get hold of the letter. We made a plan for the day of the auction. We decided what we were willing to pay. It's always a good idea. It's easy to get carried away. I won't reveal the price, but letters from the 19th century can often be bought for as little as $10 to $20 a piece. In this case we had to go a little further because the recipient was known and because we had to compete with some interested stamp collectors. We had set a final price for what we were willing to pay. We just made it. One more dollar and we would have lost the letter. If we had known in advance about the contents of the letter, we would probably have been willing to go much further.
We really had no idea what we had bought. We had only seen the envelope. We were hoping for something more, but there was a good chance that the letter would only contain business matters related to the customs treasurer job of Mr. Christie. Sometimes it's nice to be lucky. This time we hit the mark. Not only was the letter to a relative, but the letter was also written by a relative. Amazingly, the writer was the son of the customs treasurer. The letter was from 16-year-old Johan. Imagine having the opportunity to read a personal letter from a 16-year-old. What was this youth thinking about in 1858? The content would prove to be both dramatic and har to understand.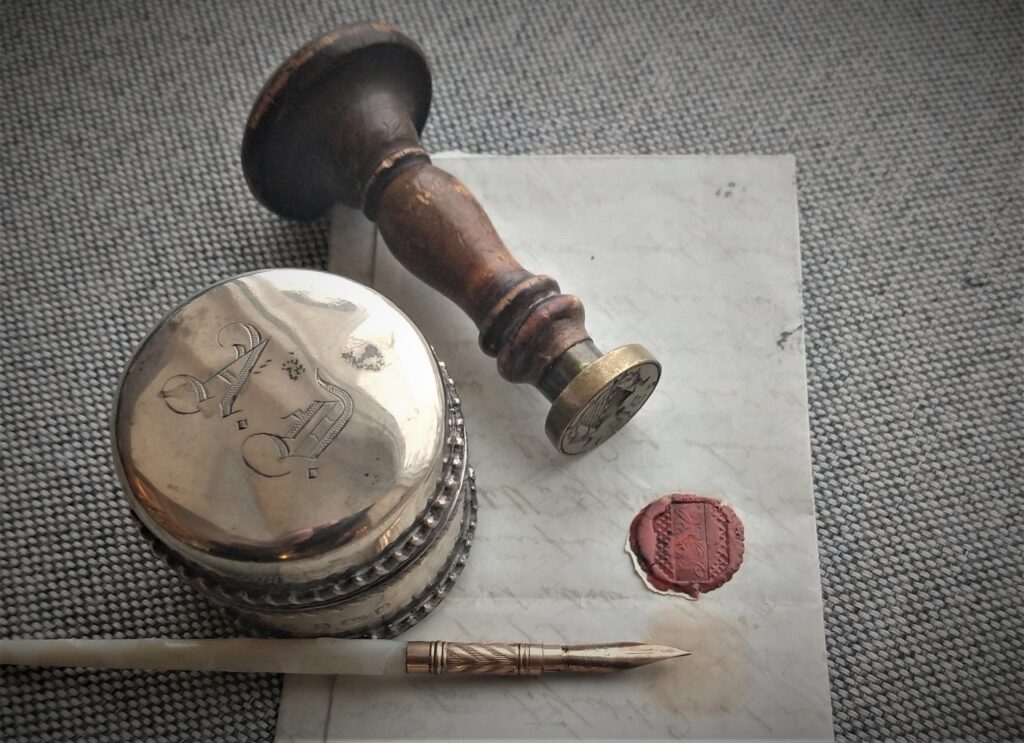 Johan writes that the letter is for his father´s eyes only. The father must choose what he wants to share with the rest of the family. Something has happened that must be kept between father and son. The 16-year-old writes impatiently and does not take the time to complete all the details of each letter and word. I can read some words, but miss many others. In addition, Johan uses Gothic letters and a personal handwriting. The drama remains hidden. I cannot read the text sufficiently to get a clear idea of the matter. I see that something serious has happened and that Johan thinks it will hinder his promotion. But he's only 16, isn't he? What kind of promotion could that be? A Captain Bergh is mentioned. Maybe it's about something military? Could you enlist in the military or be called up for initial service as a 16-year-old in 1858?
I finally make contact with Gina Dahl at the Manuscript and Library Collection at the University of Bergen. She points out that, as a general rule, they do not transcribe old texts on request. I try to tempt her with the fact that there are several famous people connected to the letter. Perhaps the content could reveal something about these people that has not previously been known. Gina answers after a few days. She does not admit that she has allowed herself to be tempted, but writes in an e-mail that the letter was easy to read and quick to transcribe. She has made an exception. I'm very grateful. I tell her what I will be going to use the translated letter for. Gina thinks it looks exciting.
But, easy to read? Does she really think so? I can feel my pride is a bit hurt. I imagine myself as good at reading old handwriting. Anyway, the mysterious letter with its dramatic content finally seems to be giving up its secrets. What had happened to Johan? Had he hurt someone? Had someone become pregnant? Had he stolen something?
Before I release the translation by Gina Dahl, I can say that things went quite well with Johan as an adult. After the difficult case in Orkedalen, he went on and took a theological official exam in 1867. Why he chose theology I do not know. It is not known whether the case in Orkedalen contributed to this choice of career. From 1870, Johan worked as a priest in Ullensvang. He stayed there until 1879. The vicar he worked with was old, so the young priest Johan had a lot of work pressure. In 1879 he mentally "hit the wall" (as we say in Norwegian).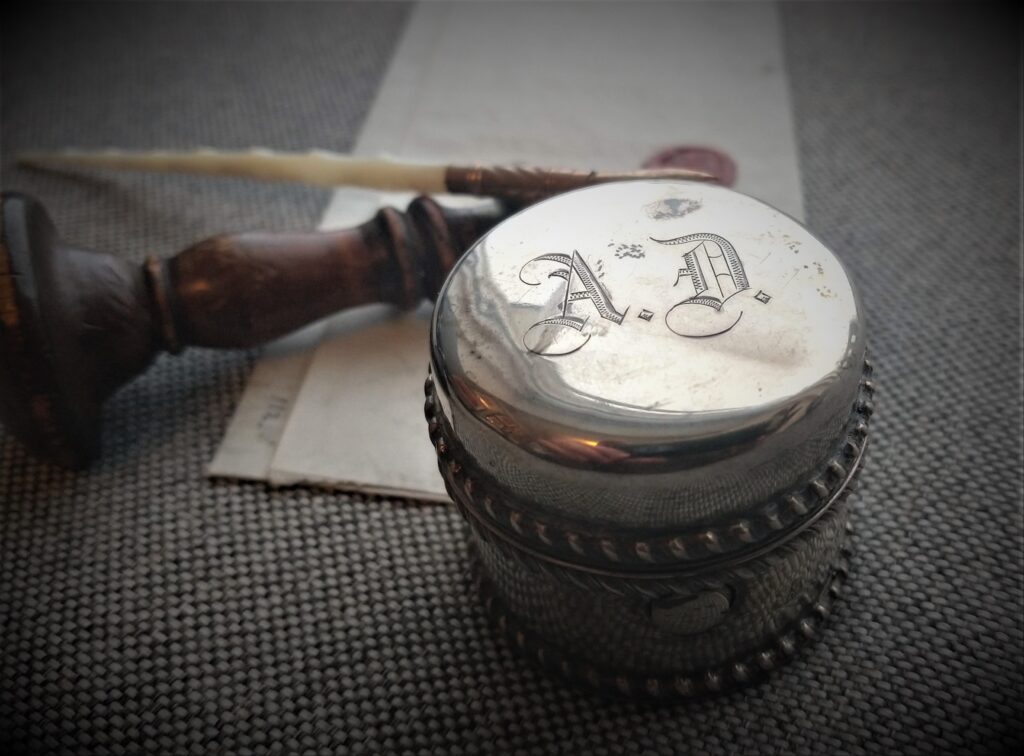 Johan struggled with his health from 1879 to 1883. During this period he visited health resorts in Europe and lived for a period in Rome. He also took a sea voyage with the D/S Donau in the Mediterranean. The sea voyage ended in Constantinople (Instanbul). At the age of 41, Johan had become a well-educated, experienced and well-traveled man and priest. Back in Norway, his health steadily improved and he took a job as vicar in Lavik in Sogn. In 1886 he embarked on what was to become his life's work. He became vicar in Vikøy church in Kvam in Hardanger. The church is located a short distance outside Nordheimsund and right next to what would later become Framnes Folkehøgskule.
Johan grew up in the center of Bergen. The address he lived at was Rådstuplass 3 . It is not too far from where the police station in the center of Bergen is located today. It is directly across the street from the Old Town Hall. When I was growing up, Vestlandsbanken (Norwegian bank) was located on the site and currently there is a Kiwi (Supermarket) on the ground floor. The address is now Allehelgensgate 2. Johan spent his summers in Fridalen. It was a summer paradise with a beautiful park designed by his uncle Wilhelm Friman Koren Christie. Wilhelm was one of the founding fathers of the Norwegian Constitution.
In the house in the center, his father, Werner Hosewinckel Christie (the customs treasurer), set up a workshop where carpentry, drawing and artistic activities were carried out. There, both the customs treasurer's own children and their friends were allowed to express themselves. Johan was number 11 in a group of 13 siblings (in one source he is considered number 12 out of 14). The brother, Eilert Christian Christie, later became known as the "Cathedral Architect". Eilert led the restoration work of the Cathedral of Trondheim for 30 years.
Johan's full name was Johan Andreas Budtz Christie. He wa simply called "Budtz" by the family members. Johan was good at drawing and painting and could have become both an artist and an architect. You can find one of his pencil drawings here . In his years as a vicar in Vikøy Church, it is said that he taught the local youngsters how to do carpentry. A good deal of the art he made still exists. He was known for his faithfulness to God and for long and faithful service in the congregation. Together with the priest Realf Ottesen, he ensured that the children and young people in the area learned to sing both hymns and national anthems. Johan was a priest for 40 years. He was priest in Vikøy church in 32 of them. He died in 1929. Here you can read the letter he sent to his father in 1858:
Dear Father!

As a rather great admirer of Consequense, this time I
cannot refrain from writing to you alone, directly speaking, but I must also
this time add as a final note that I hope that Mother and the others will have a look
into the letter with ; and in that hope, therefore, I refrain this time from writing
directly to them. I am staying at the moment in Orkedalen, 4 miles
from my "permanent" residence, provided that the place where I stay for 14 days to 3 weeks
at a time with interruptions of 2, 3 and 4 weeks can be called that,
but my biggest suitcase at least stands there. After the inspection with
Capt. Bergh, which is now due, I have stayed here again, in order to redo and change some
of my work from last year, which was not found satisfactory,
and therefore I will be up here past the winter for a while to have
the damage repaired. This will reasonably have a somewhat inhibiting effect on my
promotion, since it was probably quite certain that I should have left here immediately
if everything had been in order. I myself fully recognize the
mistakes that have been made, and my only consolation is that this year I would have done things differently than last year, and should my work seem inhibiting for me at the moment,
then for the future it has a long greater effect, namely as
the expensive teacher of experience. However, I do not let the matter get so close to me that it
should cause something really disturbing to my mind. It was my first job
of this kind, and I hope it will be better next time. Capt. Bergh was
very amiable during the whole tour, although he could be grumpy during the day, as he
had reason to be, he was very pleasant in the evening, when the road map was packed up. When I have finished here and got everything sorted, I will go to Christiania. I will thus get quite a lot of
homework for the winter, which I will then work on together with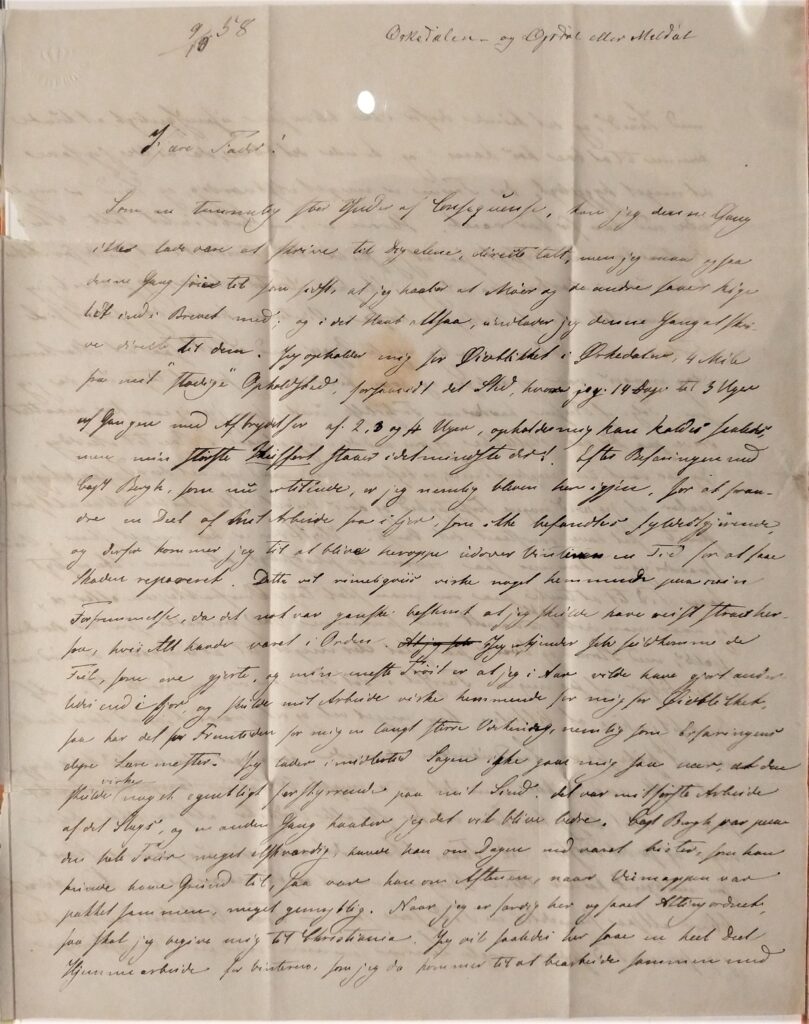 (page 2)
with Lund, and it could therefore not be so improbable that I could
come to live with him, and if it were to happen, then I would have
a very pleasant time, as the lady is very amiable, and Lund is much
better than he used to be. However, nothing has been said about this. Should
winter come early, so that I should be prevented from completing the work
out in the field, then I will not get office work, and then I will
have to leave here earlier. Winter has today sent an
early message to the valley, namely some showers with sleet, so that the fields
were gray this morning, and which prevented me from going out, and as
a result of the journey I had a cold, which I have yesterday tried to
drive away out the door by Elderberry tea, and who needed me to be quiet for dinner.
I have been out for a few hours, and I am probably right about it, so that I
hope that with some caution and if the weather should not be too
bad, I shall have overcome the worst. The white time of the year is very bad here. Weather
changes come so suddenly that you don't really
have time to think about whether you should put on an overcoat or not,
and when you're not used to such violence as here in the moutains of the north, with storms and bad weather, then you have to avoid as much as possible the necessary
consequences of so much traffic in the open air that we have to.
I heard from Bergh that Vilhelm lives very well and is quite content, and that he was thinking
to buy a country property down there; I don't know how much or how little there is
in the latter, but it is something Vilhelm has been thinking
about for a long time. My visiting you will, in all likelihood, not
be any time soon. In the spring I will probably travel to a place,
which could possibly be something a little closer to Bergen. My address
will therefore still be for a time right here.
Some time ago I got some written sentences from Vilhelmine together with a trial stocking.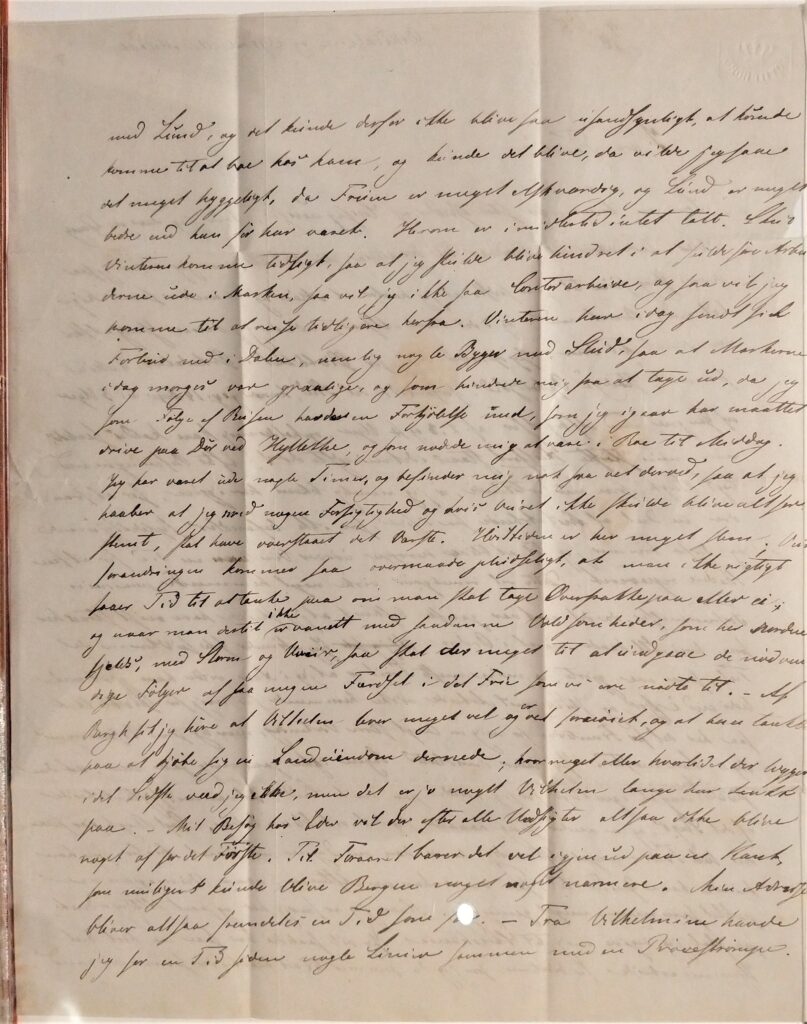 (page 3)
She did not yet notice any effects from the baths she is taking, and
it was probably not to be expected either, she had had visits from the people of Larvig,
and she says that she had received help from several people there. My temporal circumstances
have changed in a certain way, as I have gone from being a participant
in a household to being quite a tenant, so that I have had everything in Schult's house. The matter was that,
because of the accounts had gotten into trouble, and
that the time or the patience or the desire or the ability to resolve the same
was not present, and that the case was thus settled amicably, and to my
great satisfaction, that I could quite be out of the sorrows, and
make sure that there was time for meat and fish to be fermented or salted at the right time, etc.,
as it is not in my interests at all; and as, moreover, I am now very far away
from home, so the accounting will be in the old way, and
doubly insoluble. You must have come to back to live in the city already a long time and
Edvard and Andreas are probably still up there, and in that case Edvard will probably stay at
Haukeland with Andreas, or have dinner with him, as it was both
more sociable and probably cheaper for Edvard's household to be able to get
it arranged in that way. Yes, now I have to finish.
It is a bit late in the evening, and I have to get the letter a
quarter of a mile away. "Yes, good night and goodbye" for this time. Live very well, greetings
to you all together, and be cordially greeted from Yours

Johan
on the 9th of October 1858.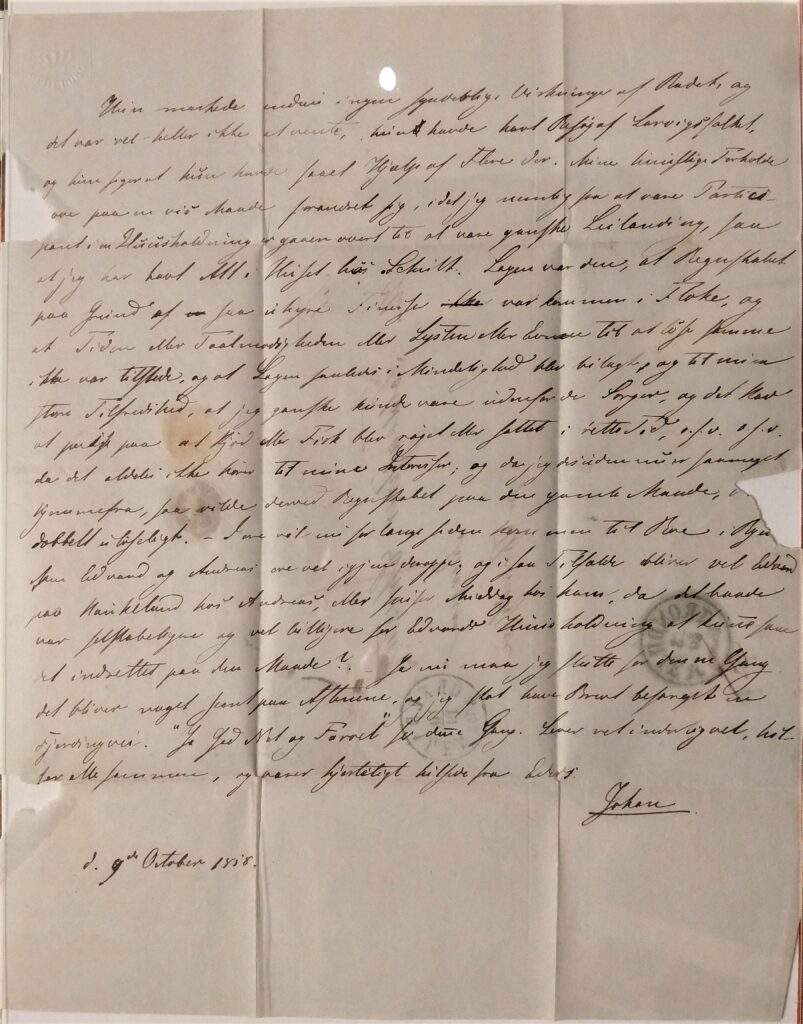 The post was written by Kjartan Skogly Kversøy and the letter was translated and transcribed by Gina Dahl. All photos were taken by Kjartan Skogly Kversøy
Sources
Vikøy sokneråd (1989). Vikøy kyrkje 150 år. Hardanger Forlag (s. 11-23) link
Hardanger Historielag Tidsskrift (1942). Hardanger. Skaars Forlag (s. 119-129) link
Dagfinn Moe og Synnøve Kløve Graue (2016). Hage- og parkanlegg ved Haukeland og Fridalen 1850-1912. I: Årbok for universitetsmuseet i Bergen 2016. Link